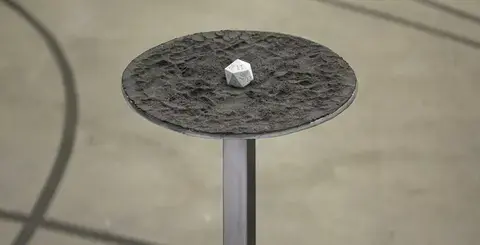 Landscape for the Chosen Ones – Curator and Artist Talk
Strandgata 34, 220 Hafnarfjörður
Hafnarborg – menningar- og listamiðstöð Hafnarfjarðar
01, October 2023
Open from 2.00pm - 3.00pm
Website https://hafnarborg.is
General Admission See on official website
Sunday October 1st at 2 p.m., we invite you to a talk of our autumn exhibition, Landscape for the Chosen Ones, hosted by artist Fritz Hendrik IV and Eva Lín Vilhjálmsdóttir, who curates the exhibition along with Odda Júlía Snorradóttir.
The exhibition explores the aesthetics of escapism. We live in a time of overwhelming and drastic changes within a society that increasingly expects individuals to take personal responsibility for global issues. Therefore, escapism has become intertwined with everyday life, yet its manifestations are multifaceted, although they often reflect the situations they are sprouted from.
The participating artists are Arna Beth, Fritz Hendrik IV, Margrét Helga Sesseljudóttir, Sól Hansdóttir, Vikram Pradhan, Bíbí Söring and Þrándur Jóhannsson, but the exhibition also features works by Eiríkur Smith, Patrick Huse and Sigrid Valtingojer from the collection of Hafnarborg and the ASÍ Art Museum.
Fritz Hendrik IV (b. 1993) is an Icelandic visual artist based in Reykjavík. He is interested in the act of both the conscious and unconscious staging in life, art and culture, as well as the relationship between tradition, perception and knowledge. He has held solo exhibitions in Kling & Bang and Ásmundarsalur, as well as having taken part in various group shows at the Reykjavík Art Museum, the National Gallery of Iceland, Hafnarborg and Moscow Biennale for Young Art in Russia. His works are in private and public collections, such as the National Gallery of Iceland and the Reykjavík Art Museum.
Eva Lín Vilhjálmsdóttir (b. 1995) recently graduated with an MA degree in philosophy from King's College London. She holds a BA in philosophy from the University of Iceland and currently works at i8 Gallery, Reykjavík. Eva Lín has written about art and interviewed artists for several online magazines and publications and continues to expand on her philosophical training throughout her projects. By approaching contemporary art from a philosophical perspective, her work emphasises critical engagement with contemporary art and explores its social framework within visual culture.
Free entry – everyone welcome.