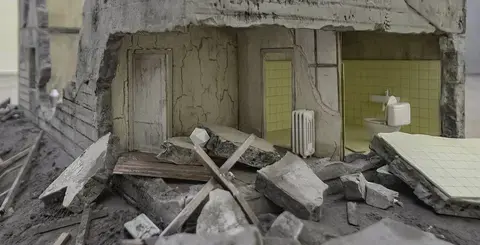 Landscape for the Chosen Ones
Strandgata 34, 220 Hafnarfjörður
Hafnarborg – menningar- og listamiðstöð Hafnarfjarðar
15, September 2023 - 30, December 2023 (see calendar for other dates)
Open from 12.00pm - 5.00pm
Website https://hafnarborg.is
General Admission See on official website
The exhibition Landscape for the Chosen Ones explores different aspects of escapism. We live in a time of overwhelming and drastic changes within a society that increasingly expects individuals to take personal responsibility for global issues. Therefore, escapism has become intertwined with everyday life.
Escapism is not new, as we have indulged in it for centuries. Its manifestations are and have been multifarious, but one thing they all have in common is that they reflect the situations they are sprouted from. Escapism does not merely mirror reality but it also affects those who momentarily choose these alternative worlds.
The exhibition hopes to raise questions such as: Why do we escape? Is it positive or negative? What situation do we escape today? What does the current landscape of escapism look like? And who has access to it?
The participating artists are Arna Beth, Fritz Hendrik IV, Margrét Helga Sesseljudóttir, Sól Hansdóttir, Vikram Pradhan, Bíbí Söring and Þrándur Jóhannsson, but the exhibition also features works by Eiríkur Smith, Patrick Huse and Sigrid Valtingojer from the collection of Hafnarborg and the ASÍ Art Museum.
The curators of the exhibition are Eva Lín Vilhjálmsdóttir and Odda Júlía Snorradóttir.