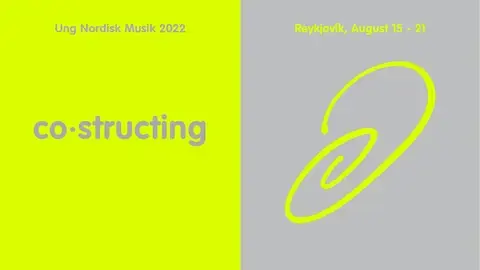 (In)visible | Ung Nordisk Musik Reykjavík 2022 | STAK
Hverfisgata 32, 101 Reykjavík
STAK
15, August 2022 - 20, August 2022 (see calendar for other dates)
Open from 2.00pm - 6.00pm
Website //ungnordiskmusik.is
General Admission See on official website
15. ágúst 18:00 - 20. ágúst 18:00
Reykjavík, Iceland
Gallerí KANNSKI, Gallerí Svigrúm and STAK
Free entry!
The works that make (In)visible are by UNM residency mentors Gunnhildur Hauksdóttir and Tine Surel Lange, and UNM resident Ondi Madete - but all the pieces combine the visible and the invisible in one way or another.
Five Drawings by Gunnhildur Hauksdóttir
how do you feel? by Ondi Madete
Portrait of Mrs Alving by Tine Surel Lange
The exhibition will be open 14-18 on August 16-19 and from 10-18 on August 20 in Gallerý KANNSKI on Lindargata 66, Gallerý Svigrúm on Hverfisgata 37 and STAK on Hverfisgata 32.
More events and concerts at Ung Nordisk Musik Reykjavík 2022: co·structing > https://fb.me/e/2IObVt816
Graphic design by Hrefna Sigurðardóttir
Photo by Hildur Elísa Jónsdóttir