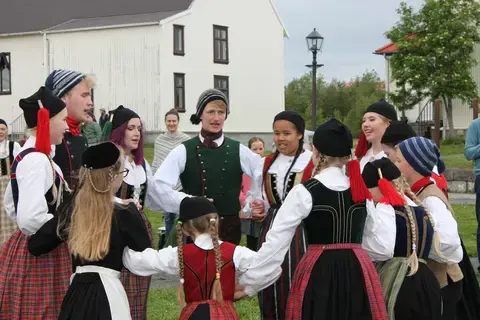 Icelandic national costumes and dances on Independence Day
Kistuhylur 4, 110 Reykjavík
Árbæjarsafn
01, December 2022
Open from 7.30pm - 9.00pm
Website https://borgarsogusafn.is/arbaejarsafn
General Admission See on official website
Icelandic national costumes and dances will be in the spotlight at Árbær Open Air Museum on Iceland's Independence Day, 1 December.
The Icelandic Handicraft Association will present Icelandic national costumes through the ages and handicrafts related to them. Furthermore, they will offer advice regarding proper wear and renewing older costumes.
The Reykjavík National Dance Association members will also be there to represent their association and teach guests how to dance Icelandic folk dances.
Light refreshments.
Free admission and everyone is welcome!
Árbær Open Air Museum is part of Reykjavík City Museum - One Museum in five unique places.
Accessibility: Footpaths throughout the museum are mostly surfaced with gravel; however, in some places, they are paved. Guide dogs are welcome at the museum.
Bus services 12 and 24 stop at Höfðabakki, by the museum. Bus service 16 stops at Streng (5-min. walk) and service 5, by Rofabæ (6-min. walk).