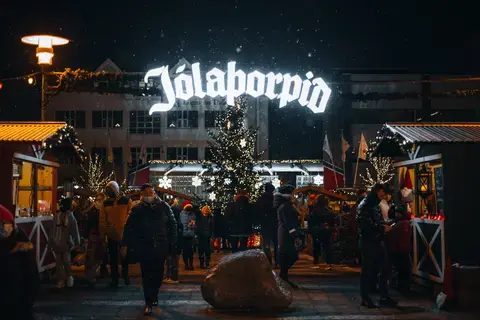 Hafnarfjörður Christmas Village
Strandgata 24b
Thorsplan
26, November 2021 - 23, December 2022 (see calendar for other dates)
Open from 5.00pm - 8.00pm
Website http://www.jolathorpid.is/
General Admission See on official website
In the weeks before Christmas, the Hafnarfjörður centre is transformed into a winter wonderland, with Christmas music, Icelandic Yule Lads, and snacks and hot drinks.
A feast of sights and sounds, the Christmas Village in Hafnarfjörður offers visits from the Icelandic Yule Lads and quaint village of Christmas houses selling everything from Icelandic design and craft to snacks and hot drinks. And don't forget to try some of the homemade Icelandic delicacies.
Just take bus number 1 from down town Reykjavík for about 20 minutes to Hafnarfjörður and you are there!