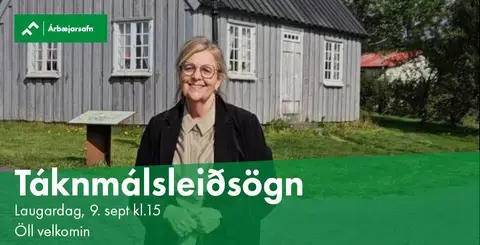 Guided Tour in Icelandic sign language at Árbær Open Air Museum
Kistuhylur 4, 110 Reykjavík
Árbæjarsafn
09, September 2023
Open from 3.00pm - 4.00pm
Website https://borgarsogusafn.is/arbaejarsafn
General Admission See on official website
Join us at the Árbær Open Air Museum for a guided tour in sign language on Saturday, 9 September, at 15:00! Sign language guide Sigurlín Margrét Sigurðardóttir will lead the tour through the museum's various buildings, each with their unique stories of Reykjavík's past.
The museum is excellent for exploring and discovering Reykjavík's rich history. We welcome everyone who speaks sign language, and the tour is free of charge.
For accessibility, the footpaths in the museum area are mostly smooth gravel paths, but cobblestones can be found in some areas. Guide dogs are always welcome in the museum.
If you're coming by bus, routes 12 and 24 stop right by the museum. Route 16 stops at Laxakvísl (a 5-minute walk), and Route 5 stops at Fagribær (a 6-minute walk). We also offer free parking for those who drive to the museum.