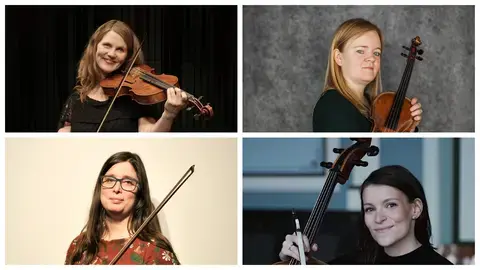 Gró String Quartet
Óðinsgata 2, 101 Reykjavík
Mengi
29, January 2023
Open from 11.00am - 12.00pm
Website https://www.darkmusicdays.is/is/gro
General Admission See on official website
This event is part of Dark Music Days 2023. Free entrance.
The Gró String Quartet would like to invite inquisitive children of all ages to a less than one hour long concert on a Sunday morning, at the cosy concert venue: Mengi. Music by various composers will be played while asking ourselves the question; when? and why? were these quartets composed? And what might it be like, to play in a string quartet yourself? Are the players always in agreement, like four bosom friends, or do they argue like politicians and then make up after arguing, so that they can play together in sync again? Is it mostly fun or is it all work? Maybe, if we are lucky, perhaps one or more of the composers will also be at the concert in Mengi, and can tell us directly about where their inspiration came from, when they were writing the music. And maybe they could also explain what it is like to hear your own quartet performed? Do any of the young listeners perhaps dream of becoming a composer one day?
Guðrún Hrund, the violist of the quartet, will lead the discussion, she is currently overseeing the ´Kids´ Concerts´ series at Mengi.
Gró String Quartet:
Gunnhildur Daðadóttir, violin
Gróa Margrét Valdimarsdóttir, violin
Guðrún Hrund Harðardóttir, viola
Hrafnhildur Marta Guðmundsdóttir, cello
The Icelandic violinists Gunnhildur and Gróa Margrét, violist Guðrún Hrund and Hrafnhildur Marta on cello, now appear as the newly founded Gró String Quartet. Although they have played together countless times before through the years, on various occasions, with different groups and ensembles, such as; The Iceland Symphony Orchestra, Sinfonia Nord, The Reykjavík Chamber Orchestra, Barokkbandið Brák and Jökla Chamber Ensemble. The quartet members are all experienced chamber music players and share a passion for exploring new sound worlds in the field of contemporary classical music. All of them collaborate regularly with composers, both Icelandic and of other nationalities and have premiered and recorded a number of new works.
About the performers:
Gunnhildur Daðadóttir was born in Reykjavík and started taking violin lessons at the age of 5, with Lilja Hjaltadóttir. After graduating from the Iceland Academy of the Arts, where she studied with Guðný Guðmundsdóttir, she continued her studies at the Lahti Music Academy in Finland, University of Illinois and University of Michigan in America. Her principal teachers were Sigurbjörn Bernharðsson and Aaron Berofsky. Since 2012, Gunnhildur has been working as a violinist in Iceland, she is a member of the violin section of the Iceland Symphony Orchestra, and has performed with a number of other ensembles, such as; Reykjavík Chamber Orchestra, Brák Baroque Ensemble, Iceland Opera Orchestra and SinfoniaNord.
Guðrún Hrund Harðardóttir studied viola at the Hochschule für Musik und Tanz in Cologne, Germany, and later specialised in early music and historical performance practise at the Royal Conservatory in The Hague. She is one of the founding members of Reykjavík International Baroque Orchestra and has worked with different ensembles in Europe, such as; Collegium Musicum Den Haag, B'rock Orchestra, Anima Eterna Brugge and The Netherlands Radio Orchestra. Guðrún Hrund now lives in Reykjavík and is a member of the Iceland Symphony Orchestra, but also plays regularly with leading chamber music and baroque groups in Iceland, such as; The Reykjavík Chamber Orchestra, Nordic Affect, Jökla and Barokkbandið Brák, enjoying to explore both older repertoire, and contemporary music. Guðrún has played with Björk in concerts and festivals worldwide, appearing on both the albums: Homogenic and Vulnicura. Guðrún has a special interest in curating children's concerts, and is currently pursuing a Master's Degree in the Field of Arts Pedagogy, at The Iceland University of the Arts.
Icelandic violinist Gróa Margrét Valdimarsdóttir's unique dedication to both new and old music, has led her to regularly premiere and record new works alongside her traditional ensemble positions. Gróa currently holds a violin position with the Iceland Symphony Orchestra and Brák Baroque Orchestra, and she has performed with ensembles including; the Iceland Opera Orchestra, North Iceland Symphony Orchestra, Connecticut Virtuosi, and The Hartford Independent Chamber Orchestra. Gróa has appeared as a soloist with several orchestras, including the Iceland Youth Orchestra, University of Illinois Symphony Orchestra, and the Foot in the Door Ensemble—the last with which she premiered Benjamin Park's violin concerto: Huldufólk.
As a dedicated teacher, she holds violin faculty positions at the Allegro Suzuki Music School and Akranes Music School, and is a co-founder of the Iceland Youth Orchestra. Honors include; the Young Artist of Kópavogur award, the Landsbanki award, and, during her graduate years, a prestigious 20/20 honors chamber position at the Hartt School. Her former teachers include Anton Miller, Sibbi Bernhardsson, Auður Hafsteinsdottir, Margrét Kristjánsdóttir, and Lin Wei, among others.
Artist Diploma, The Hartt School; GPD, The Hartt School; M. Mus., University of Illinois; B. Mus., Iceland Academy of Arts.
Hrafnhildur Marta Guðmundsdóttir, cellist, has appeared as a soloist, chamber musician, and with orchestras in both Europe and the United States. She has performed as a soloist with the Icelandic Symphony Orchestra and the North Iceland Symphony Orchestra as well as appearing as principal cellist, with orchestras such as; the Aspen Opera Orchestra in Colorado, and Aurora Festival Symphony Orchestra in Stockholm. She served as the principal cellist of Sinfonia Nord, Iceland, from 2019-2022. Hrafnhildur has received awards from foundations such as; the Jean-Pierre Jacquillat Memorial Fund, the Rotary Foundation in Iceland, Leifur Eiriksson Foundation, as well as Fellowships from the Thor Thors Foundation and the Leifur Eiriksson Foundation. She has been a finalist in competitions such as the NSAL instrumental competition, the National Society of Arts and Letters Competition in Indianapolis and the Indianapolis Matinee Musicale Competition. As a part of the Kuttner String Quartet, Hrafnhildur has served as string quartet-in-residence at Indiana University as well as the Beethoven Haus in Bonn. Her playing can be heard on Naxos recordings of previously unpublished chamber music sketches by Beethoven, that were a part of Naxos 2020 release of the complete works of Beethoven for his 150th Jubileum.
Hrafnhildur studied at the Iceland Academy of the Arts, with Sigurgeir Agnarsson and Gunnar Kvaran; the Royal Danish Academy of Music, with Morten Zeuthen; and Jacobs School of Music, Indiana University, with Brandon Vamos. She plays a cello made by Gary Garavaglia and a bow by James Tubbs.