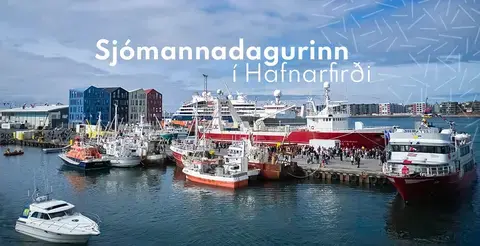 Fishermen´s Day in Hafnarfjörður
Fornubúðir 8, 220 Hafnarfjörður
Flensborgarhöfn
04, June 2023
Open from 1.00pm - 5.00pm
Website https://hafnarfjordur.is/vidburdur/sjomannadagurinn-i-hafnarfirdi-2023/
General Admission See on official website
Fishermen´s Day is celebrated at Hafnarfjörður harbour on June 4th.
Festival programme by the Hafnarfjörður marina from 13:00 to 17:00 (Flensborgarhöfn)
Free Boat Cruise – departure every 30 minutes
A large variety of sea creatures is on display by the Marine and Freshwater Research Institue, Fornubúðum 5
Strongest men in Iceland competitions
The local ICE-SAR accident prevention division and youth section set up a café and the ICE-SAR rescue team set up an obstacle course on sea, water slide, zipline and pillow fight
The local sailing club Þytur hosts an open house and lets families try rowboats and kayaks
13:00-14:00 Traditional rowing competition
13:00-14:00 Tufti and his troll children stomp around the area
13:30 Hafnarfjörður brass band plays around the harbour area
14:00-16:00 Meet the Mermaid Princess and the Pirate
14:00 Honouring of sailors
15:00 Sylvía Erla and Árni Beinteinn play the cildren's best songs
15:30 Tónafljóð perform and adventurous music performance
16:00 Gedda carrot and Red apple sing songs from the Fruit Basket musical
Icelandic Coast Guard's rescue helicopters and Hafnarfjörður SAR joint rescue exhebition
Artists, shops and restaurants by the harbour open their workshops
13:00-16:00 Cake buffet at Kænan restaurant and a taste of free fish soup
13:00-17:00 Íshús Hafnarfjarðar – around 30 artists workshops
13:00-17:00 Gára handverk
Hafnarfjörður Museum
11:00-17:00 Hafnarfjörður Heritage museum's are open
Photographs depicting the life and times of the people who built the town of Hafnarfjörður on display around the Promanade.
The Fishermen's Day has been celebrated in Hafnarfjörður since 1953 to honour those who work at sea and in the fishing industry in Iceland.