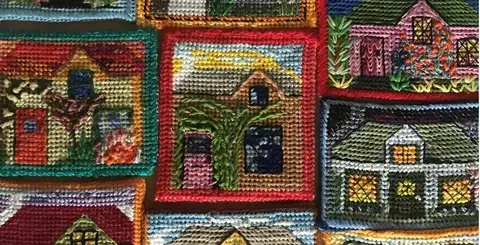 Exhibiton | A Stitch in Time
Hraunbær 119, 110 Reykjavík
Borgarbókasafnið Árbæ
06, September 2023 - 03, December 2023 (see calendar for other dates)
Open from 10.00am - 6.00pm
Website https://borgarbokasafn.is/vidburdir/syningar/syning-ad-halda-thraedinum
General Admission See on official website
Ásta Kristrún Ólafsdóttir shows embroidery pictures.
Ásta was born in Reykjavík in 1958. She has worked as a psychologist, teacher and counselor for people with addiction diseases and their relatives.
The pictures at the exhibition were sewn in the years 2018-2023. They are about a peaceful life and beautiful gardens, inspired by the British tv-crime series such as Miss Marple, Barnaby and Father Brown.