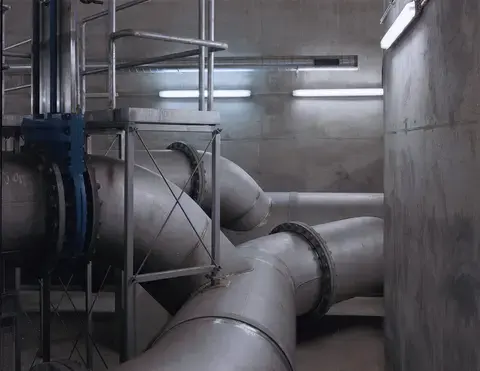 Elvar Örn Kjartansson │The System
Tryggvagata 15, 101 Reykjavík
Ljósmyndasafn Reykjavíkur
18, September 2022 - 11, December 2022 (see calendar for other dates)
Open from 1.00pm - 5.00pm
Website https://borgarsogusafn.is/ljosmyndasafn-reykjavikur
General Admission See on official website
In his exhibition The System, Elvar Örn Kjartansson seeks to bring to the surface the invisible system behind the modern amenities that we take for granted.
Since 2016 Elvar Örn has been working on an extensive photographic project, for which he visits businesses and public bodies in Iceland and takes photographs of various spaces. The system is large and complex, comprised of buildings, institutions and service companies, and the innumerable parts which make up its infrastructure. Each and every one of them serves a specific purpose, ensuring that society can continue to function from day to day; and we live our lives within it almost unconsciously. Only when the electrical supply fails, or we lose our internet connection, are we affected – and especially when a whole sector of the economy is impacted by industrial action.
By undertaking such a wide-ranging subject, which is both abstract and concrete, and bringing it together in visual terms, the objective is to awaken the citizen in the street – the observer – from dormancy, so to speak: towards consciousness of the importance of these matters. Through increased awareness and respect for society's diverse economic sectors – each of which forms an important link in the system – the objective of the project is to stimulate debate and questions on our way of life in the past, present and future.
The timing of the exhibition is apt, in view of the manifestation of an external threat that Covid-19 has been in Icelandic society for the past two years. It has placed a strain on the whole system of our society, and it has repeatedly pushed the healthcare system, for instance, to the very brink, leaving little scope for dealing with the unexpected.
Elvar Örn aims to keep his photographs simple, and without human figures. "People come and go, but what remains is the system, which operates day in, day out, all year round. The system which ensures that the ordinary citizen can switch on the lights, turn the radiators up, cook a meal, turn on the TV and flush the toilet, without any difficulty."
Elvar Örn has worked exclusively in photography for the past fifteen years, and during that time, his work has been evolving towards the abstract.
Since 2015 Elvar has been living in Nuuk, where he has worked on various projects and exhibitions relating to hunters. In 2017 he travelled around Greenland for more than five months, visiting major communities to interview hunters and take their portraits for his photography project Piniartoq (the Hunter). The project was supported by art funds in Greenland.