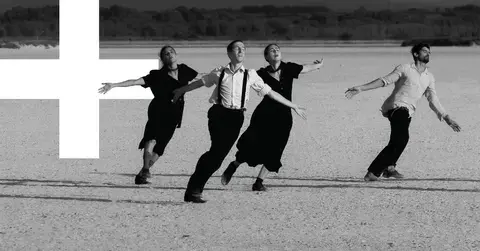 Elegy of Lost Things - Work in progress
Hamraborg 4, 200 Kópavogur
Gerðarsafn
04, February 2023
Open from 1.00pm - 1.30pm
Website https://menning.kopavogur.is/event/harmljod-horfinna-hluta-verk-i-vinnslu/
General Admission See on official website
Elegìa delle cose perdute is an international dance-theatre event with live music connecting Icelandic residents with refugees, musicians and performes from all around the world.
Elegìa delle cose perdute (Elegy of Lost Things) reflects a nostalgia, a Sehnsucht, a memory as matter that traces back our roots and identity and, at the same time, the separation from them and the feeling of moral exile that arises from it: a dream of impossible returns, anger facing the time that annihilates, a send-off from what is lost and that has marked the map of our inner journey.
Fragments from the performance will be presented as part of the Tracing Fragments exhibition directly in the exhibition space.
Free entry
Running time: 25 min
Concept & direction: BPART – Lenka Flory, Michaela Kessler
Artistic direction: Zerogrammi, Stefano Mazzotta
Music dramaturgy: Linus Orri
Performed by: Amina Amici (I), Thorgerdur Atladóttir (IS), Gabriel Beddoes (I), Alejandro Bencomo (IS), Damien Camunez (F), Chiara Guglielmi (I), Audur Huld Gunnarsdóttir (IS), Agáta Jarošová (CZ), Sigridur Laretta Jonsdottir (IS), Lara Hereu Macho (CZ), Tiffany Margelin (IS), Riccardo Micheletti (I), Alessio Rundeddu (I), Marie Svobodová (CZ), Orkun Türkmen (CZ), Karel Vladyka (CZ).
Refugees and asylum seekers from Afghanistan, Bangladesh, Columbia, Iran, Iraq, Nigeria, Palestine, Somalia, Syria, Ukraine, Venezuela; Participants from Lithuania, Portugal, Spain; and Icelandic residents.
Production: Giulia Sandroni, Magdalena Tworek
Partners: Dansverkstaedid, Red Cross Iceland, Reykjavik City Library, Gerdarsafn Museum, Municipality of Reykjanesbær, IDNO Culture House, Hafnarhús, Hamarinn youth centre Hafnarfjordur, social centres of Vitatorg and Árskogar.
Project Be part! was supported by the EEA and Norwegian Funds within the program Culture.