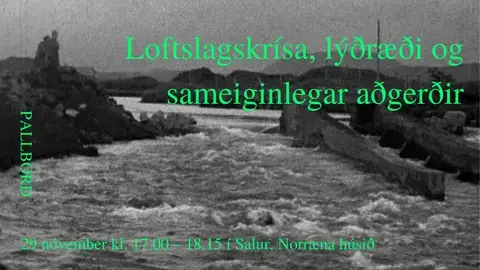 Ecological crisis, democracy and collective action – Panel
Sæmundargata 11, 101 Reykjavík
Norræna húsið
29, November 2022
Open from 5.00pm - 6.15pm
Website https://nordichouse.is/vidburdur/loftslagskrisa-lydraedi-og-sameiginlegar-adgerdir/
General Admission See on official website
* The discussion will be in Icelandic.
Too often the challenge with mitigating the ecological crisis is not a lack of solutions, but a lack of political will. Moreover, the discussion around the crisis often focuses on the responsibility of individuals and their choices, instead of the political-, economic- and social structures behind the issue. Most people agree that climate change is a huge threat, and that we need to do more, but we have a harder time agreeing on what kind of action to take. How can we address these conflicts and collectively work for a better future? How can we put pressure on politicians to do more? And what alternatives are there if representative democracy comes short?
Participating in the discussion are Auður Önnu Magnúsdóttir, director of the Icelandic Environment Association, Þorgerður María Þorbjarnardóttir, former chair of Ungir umhverfissinnar and environmental activist, Bjartmar Oddur Þeyr Alexandersson, investigative journalist in environmental issues, and Katrín Oddsdóttir, lawyer and expert in the Constitutional reform.
Valur Grettison, editor-in-chief at Reykjavik Grapevine, will moderate the discussion.