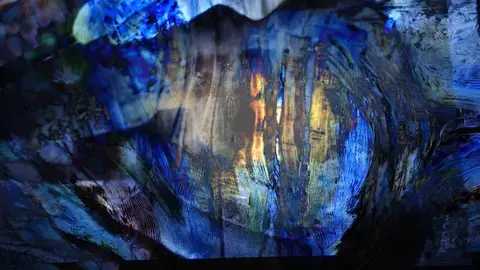 Dream of Ice (LHÍ)
Lækjartorg , 101 Reykjavík
Gróðurhús
02, February 2023 - 04, February 2023 (see calendar for other dates)
Open from 6.30pm - 10.30pm
General Admission See on official website
"Ísdraumur – Dream of Ice" is a spiritual reflection in which music and visual emotions coincide simultaneously.
The work generates a timeless change of perspective in the viewer's perception, where colour and sound language overlap in a dreamlike atmosphere of memory.
The dimension of inner memory, like a dreamlike dimension, in the work starts from the perception of the picture, of the visible, and arrives at an invisible image, not really defined and connected to music and sound.
The music refers to the present moment, while the image wants to share a moment referring to the past memories and to what we conceive of as the past.
Colour, like a vibration, reflects a sensation and a feeling evoked by the past, a deep and fragile emotion, a visible and invisible rhythm, breathing in the present.
The sound fragments are like whispers and small improvised noises of notes and tones as spontaneous as painting.
Synaesthesia as an echo of experiences, "Ísdraumur – Dream of Ice" invites to touch and be touched by the visual material and to feel the intangible and non-visible relationships of the mind, where space-time creates and invents the beauty of ideas and sublime thoughts.
Camilla Cerioni was born in 1994 in Ancona, Italy.
She is a multidisciplinary artist, first-year Master's student in Fine Art at Listaháskóli Íslands.
She works with the concept of synesthesia and with language and the sphere of sensory perceptions. She admires and is fascinated by the Nordic sensibility given by the approach with a strong and powerful nature and Mother Earth.
She had her Bachelor degree in Painting with honours in the Accademia di Belle Arti of Macerata, Italy, where she was selected for some study mobility exchanges, in Imatra, Finland in partnership with the University SAIMAAN AMK KUVATAIDE in June 2018 and in Vilnius, Lithuania at the Vilniaus Dailės Akademija | Vilnius Academy of Arts in 2020.
She exhibited in the Collective Exhibition "WITHIN A STONE'S THROW / STEINSNAR", Curated by Hannah Zander, Verksmiðjan at Hjalteyri, Iceland, 2022; she had a Personal Exhibition "Reflection", Curated by Camilla Cerioni, Ancona, Italy, 2022; she exposed in the Exhibition with the painter Andrea Chiesi, "PA.CE con Chiesi. Le dimensioni della pittura.", Curated by Alessandro Mescoli, Castelnuovo Rangone, Modena, Italy, 2022; she participated at the Collective Exhibition after the Workshop organised by RASK Collective Iceland and held by Sequences Art Festival, thanks to curators Þráinn Hjálmarsson and Þóranna Björnsdóttir, Post-húsið, Reykjavík, Iceland, 2021; she performed at Plan - B Art Festival - curated by Sigþóra Óðinsdóttir artist, Logi Bjarnason artist, Sigursteinn Sigurðsson architect and Inga Björk Margrétar Bjarnadóttir, art theorist and a curator, Borgarnes, Iceland, 2021; she participated in the Residence "RAMO- Ritratto a Mano" with José Angelino with the musician Simone Pappalardo and the curator Simone Ciglia, Abruzzo, Italy, 2019.