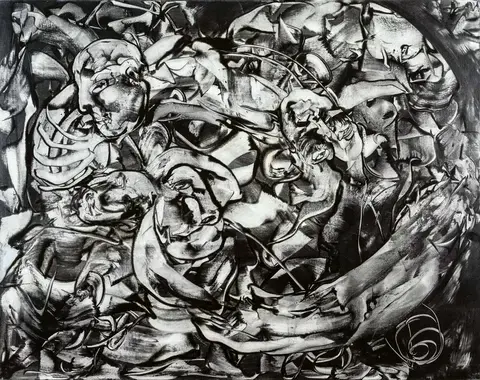 In the Depths of Your Own Awareness
Strandgata 34, 220 Hafnarfjörður
Hafnarborg – menningar- og listamiðstöð Hafnarfjarðar
21, May 2022 - 28, August 2022 (see calendar for other dates)
Open from 12.00pm - 5.00pm
Website https://hafnarborg.is/exhibition/i-undirdjupum-eigin-vitundar/
General Admission See on official website
This retrospective of Gunnar Örn Gunnarsson will feature works spanning the artist's career, of almost forty years, during which he went through a number of transformations and changed his style a few times. Gunnar Örn was an extremely prolific artist and left a great many artworks: drawings, monotypes, paintings, sculptures and watercolours, as well as works created with mixed technique.
Gunnar Örn Gunnarsson (1946-2008) took cello lessons in Copenhagen in 1963-64, as well as attending Svend Nielsen's drawing school in Denmark, though he was otherwise a self-taught artist. Gunnar Örn was an active presence in the Icelandic art scene, exhibiting regularly both here and abroad, for example in Denmark, Tokyo, Budapest and in Achim Moeller's gallery, Moeller Fine Art, New York. Notably, Gunnar Örn was Iceland's representative at the Venice Bienniale in 1988. Works by the artist belong to the collections of many museums in Iceland, as well as the Guggenheim in New York, the Sezon Museum of Modern Art (Seibu) in Tokyo and Moderna Museet and Nationalmuseum in Stockholm.
Curated by Aldís Arnardóttir.