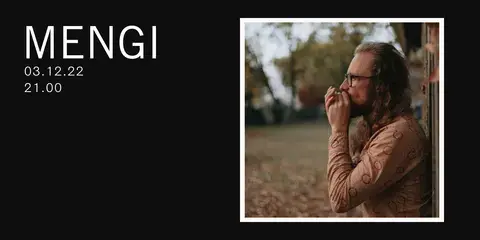 Davíðsson - The Music of Þorleifur Gaukur
Óðinsgata 2, 101 Reykjavík
Mengi
03, December 2022
Open from 9.00pm - 10.00pm
Website https://mengi.net/events
General Admission See on official website
'Davíðsson' is a linear journey through different worlds. A collection of short stories that connect a distant dream, rural bliss and many shades of sorrow. Drawing inspiration from western soundtracks of Ennio Morricone, desert blues of Mali and the old hymns of Iceland, these musical threads create a world of their own.
Thorleifur, Davíð and Skúli discovered these arrangements through the flow of these recordings. Dissolving the boundaries of instruments while exploring their sounds as individual players, the listener can hear it as a whole. The texturally rich music has a very human, almost vocal quality, throughout the melodies on each instrument.
The instruments that have chosen Thorleifur over time have always had a unique evocative quality. For him, music is a cathartic release guided by those instruments. Growing up in Iceland he got to play with a wide range of top level musician from an early age. His musical and personal journey has exposed him to the wide range of the human experience. When not touring with Kaleo, Grammy nominated rock band from Iceland, Thorleifur is creating and collaborating in musical communities from Nashville, TN to his home in Iceland.
Recorded in Sundlaugin, the former swimming pool turned studio by Sigur ros, 'Davíðsson' is central to its surroundings. Through days in the flow of the small village of Álafosskvosin these songs unfolded naturally in the company of friends and family. Their supportive presence enhanced the familial quality of the record. The fluid nature of the recordings invites a feeling of being a secret listener.
House opens 8.30PM
Concert starts 9.00PM
Admission is 5000 ISK