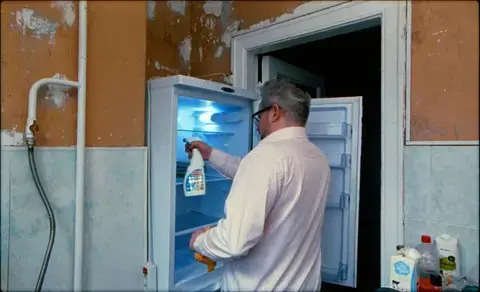 Curver Thoroddsen - The Struggle Is Real
Nýlendugata 17, 101 Reykjavík
Höggmyndagarðurinn
03, February 2023 - 04, February 2023 (see calendar for other dates)
Open from 6.00pm - 11.00pm
Website https://mhr.is/hoggmyndagardurinn-the-sculpture-garden
General Admission See on official website
Projection of a film piece in which the artist cleans refrigerators of filmmakers in Russia.
The piece was done in Moscow shortly before the Ukrainian war following censorship of another work by the artist.
THE STRUGGLE IS REAL // STRÍÐIÐ ER RAUNVERULEGT
This work is a "real-life-performance" filmed on 16mm film in Russia. Curver had been asked by Ragnar Kjartansson to do a naked-crawl-performance at a big group exhibition tied to his Santa Barbara show in Moscow shortly before the start of the Ukrainian war. No one thought that war was imminent, but in retrospect there were various signs in the air.
Three days before Curver's arrival in Russia, the making of the naked-crawl-performance was banned and other works in the exhibition were censored. The preparation of this large-scale performance piece had taken several months of planning in collaboration with an emerging cutting-edge film crew ready to document the now banned monumental performance. On the way to Moscow, an idea of a small and simple performance was born. In which the power structure of the collaboration was turned upside down. Curver offered to clean the fridges of the emerging filmmakers. A boring, mundane activity not likely to be censored or banned. Being genuine experimental filmmakers, of course they had 16mm films stored in their fridges. An obvious decision was made to use them for the work then lightheartedly named "The Struggle Is Real".
A few weeks after the opening of the exhibition in Moscow, Putin invaded Ukraine and things changed overnight. Ragnar stopped his show immediately and all the bans and censorship grew more significant in hindsight. This simple performance film became something different and bigger in scope. The Icelandic translation of the title is now "The War is Real".
Curver Thoroddsen with:
Maxim Pechersky
Elizaveta Popova
Yaroslav Golovkin