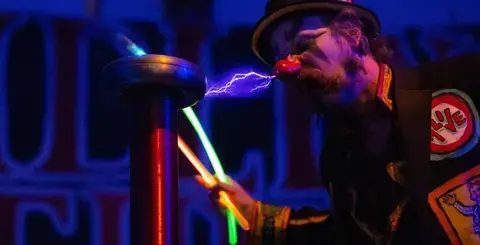 Coney Iceland
Hverfisgata 19, 101 Reykjavík
Þjóðleikhús kjallarinn
08, June 2023
Open from 9.00pm - 11.00pm
Website https://fb.me/e/3yLCyXoXw
General Admission See on official website
Is a Freak Circus Variety spectacular inspired by the American Carnival sideshows of the past.
You will see Freaks, Fire, Clowns, drag performers, Beautiful dancers and unbelievably daring stunts.
Sword swallower Jelly Boy the clown took the Squidling Brothers Circus Sideshow on a tour in 2018 after working at the world famous Coney island Amusement park in Brooklyn New York. Love at first sight dared Coney Iceland to stay alive in the Reykjavik nightlife underground.