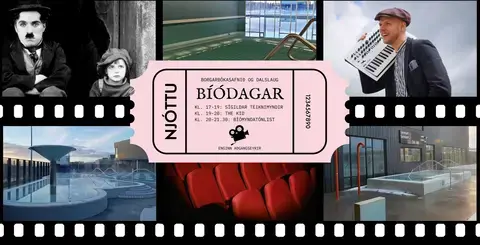 Cinema Days
Úlfarsbraut 124, 113 Reykjavík
Borgarbókasafnið Úlfarsárdal
06, October 2023
Open from 5.00pm - 9.30pm
Website https://borgarbokasafn.is/vidburdir/syningar/biodagar
General Admission See on official website
🎥 The City Library in Úlfarsárdalur is in a true cinema mood these days. Not only are we hosting some RIFF International Film Festival films, but we are also throwing our own film festival: Cinema Days!
🎬 RIFF will be here between the 2nd – 6th of October, where selected short films for children will be screened between 2-6 PM.
✨ Therefore, the City Library and Dalslaug swimming pool have put together an entertaining program in Miðdalur on Friday, October 6th.
🎞 Between 5-7 PM classic cartoons will be screened in the indoor pool, where you can hear the sound of the film above and below the surface of the water.
🎹 At 7 PM, one of the gems of the silent era, The Kid (1921), by Charlie Chaplin, will be on the big screen in Miðgarður. During the screening, the musician Kristján Hrannar Pálsson will improvise live music for the film, as was the tradition for the performance of silent films in the early years of cinema. Kristján Hrannar works as an organist and choir director at the The Independent Congregation of Reykjavík, but also has a diverse background that spans everything from electronic music to jazz and rock music.
🎶 At the end of the evening, or between 8-9.30 PM, pool guests can enjoy themselves in the outdoor pool to the tunes of vintage film music.
✨ Everyone is welcome!
The Evening's Program – Friday, October 6th:
5.00-7.00 PM: Indoor pool | Classic cartoons
7.00-8.00 PM: Miðgarður | The Kid (1921) by Charlie Chaplin – live improvisation by Kristján Hrannar
8.00-9.30 PM: Outdoor pool | Vintage film music
ℹ️ Further information:
https://borgarbokasafn.is/en/event/exhibitions/cinema-days
Stella Sif Jónsdóttir | Events
stella.sif.jonsdottir@reykjavik.is