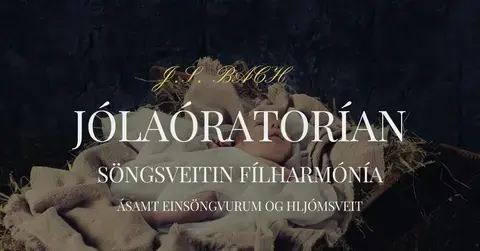 Christmas Oratorio J.S. Bach
Sólheimar , 104 Reykjavík
Langholtskirkja
28, December 2022
Open from 8.00pm - 10.00pm
General Admission See on official website
One of the most well-known Christmas works is Johann Sebastian Bach's Christmas Oratorio BWV 248, which is essential for many people throughout the holiday season. The Church of Langholt will host a performance of this lovely piece on December 28 at 8:00 p.m. The performers are the soloists ris Björk Gunnarsdóttir, Hildigunnur Einarsdóttir, Benedikt Kristjánsson, and Oddur Arnór Jónsson, as well as the Philharmonic Choir of Iceland and an orchestra. Magnús Ragnarsson conducts the music. Páll Palomares is a concertmaster.
The Christmas oratorio uses energetic choral parts, magnificent hymns, and stunning solo arias to portray the tale of Jesus' birth in a poignant and entertaining manner. The evangelist's score, which Benedikt Kristjánsson will interpret and which has garnered widespread acclaim for his rendition of Bach's works, then serves to weave the narrative together.
The 80-member mixed Philharmonic Choir has been performing since 1960. It gained praise from the critics for its outstanding performance at Verdi's Requiem when it turned 60 last spring. The choir's repertoire for this year includes the Christmas oratorio as well as a Christmas concert on November 27 where the choir will sing a selection of Christmas songs alongside the soprano Hallveig Rúnarsdóttir. The choir will present a concert of romantic choral pearls in the spring, and on June 1 and 2, it will sing Carmina Burana alongside other choirs and the Icelandic Symphony Orchestra.