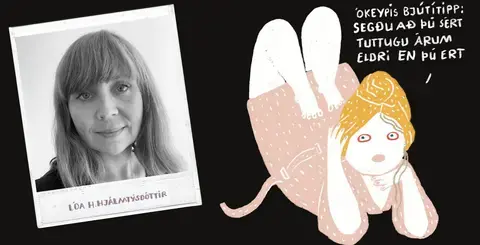 Book Café | Lóaboratoríum
Úlfarsbraut 124, 113 Reykjavík
Borgarbókasafnið Úlfarsárdal
11, May 2023 - 21, September 2023 (see calendar for other dates)
Open from 5.30pm - 7.00pm
Website https://borgarbokasafn.is/vidburdir/bokmenntir/bokakaffi-loaboratorium
General Admission See on official website
🎨Lóa Hlín Hjálmtýsdóttir (Lóaboratoríum) has been a self-employed artist since 2005.
🎨She has been through many adventures in these last 18 years and has made multiple appearances in the country's art life as an illustrator, screenwriter and writer, comic author and musician. Lóa is a member of the band FM Belfast, has written the annual Icelandic New Year's Eve Comedy Show (Áramótaskaupið) three times, illustrated more than 30 books, and is currently writing columns and drawing comics for Heimildin, making art and teaching creative writing.
🎨 Book Café guests are invited to an informal lecture and chat with Lóa. Questions and comments are welcome. Fans of jokes, pranks and mischief should not miss this opportunity to peek into the world of a person who is crazy (or stupid) enough to want to work as an artist in Iceland.
🇮🇸 Please note that the event is in Icelandic.
🎨 Everyone is welcome.
🎨 Lóaboratoríum on Facebook:
https://www.facebook.com/loaboratorium
ℹ️ Further information:
https://borgarbokasafn.is/.../lit.../book-cafe-loaboratorium
Stella Sif Jónsdóttir, Specialist | Events and educational programs
stella.sif.jonsdottir@reykjavik.is