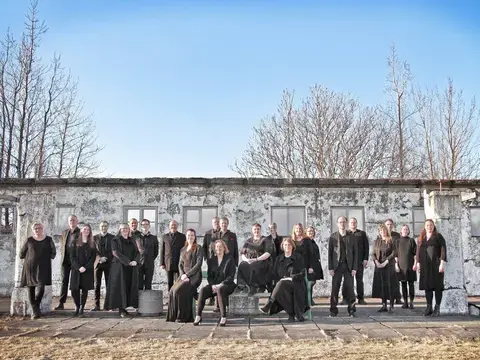 Ave Maris Stella - Hljómeyki
Silfurteigur 2, 105 Reykjavík
Laugarneskirkja
29, January 2023
Open from 4.30pm - 6.00pm
Website https://www.darkmusicdays.is/is/hljomeyki
General Admission See on official website
Hljómeyki Chamber Choir´s concert programme is devoted to the text of Ave Maris Stella, a prayer to Holy Mary. The choir received a grant to commission three pieces to the prayer, from the composers within the choir; Egill Gunnarsson, Eygló Höskuldsdóttir Viborg and Hildigunnur Rúnarsdóttir. Four other pieces to the same prayer text will be delivered, spanning the 19. Century until the present time. The choir´s performance will also include Arvo Pärt's piece: Sieben Magnificat-Antiphonen.
Programme:
Lajos Bárdos 1899-1986 Ave Maris Stella
Arvo Pärt 1935- Sieben Magnificat-Antiphonen
James MacMillan 1959- Ave Maris Stella
Eygló Höskuldsdóttir Viborg 1989 - Ave Maris Stella, premiére
Hildigunnur Rúnarsdóttir 1964- Ave Maris Stella, premiére
Egill Gunnarsson 1966- Ave Maris Stella, premiére
Edvard Grieg 1843-1907 Ave Maris Stella
Philip Stopford 1977- Ave Maris Stella
Performers
Hljómeyki
Erla Rut Káradóttir, conductor
Hljomeyki Chamber Choir was founded in 1974 and has been among Iceland's leading choirs ever since. Hljomeyki's repertoire is large and varied, and includes works from polyphonic Renaissance music to modern rock music, with an emphasis on premiering Icelandic choir music. The choir performs regularly with prominent artists, among them the Iceland Symphony Orchestra (ISO). The choir has also been a pioneer in premiering large choral works in Iceland – Rachmaninov's Vespers, Schnittke's Choir Concerto and Sviridov's Pushkin's Garland among them. Most recently Hljomeyki premiered Joby Talbot's Path of Miracles to great acclaim. Hljomeyki has released several CD's, all available on Spotify.
About the conductor:
Erla Rut Káradóttir studied singing and piano from a young age and later studied organ. She graduated with an organ degree from the National Church of Iceland, School for Church Music, and a bachelor´s degree from the Iceland University of the Arts, with choral conducting as her major. Her conducting teachers were Magnús Ragnarsson and Hörður Áskelsson. She has varied experience in choral music, singing, conducting and accompanying. She works as an organist in Tjarnarprestakall in Hafnarfjörður and in Vatnsleysuströnd.