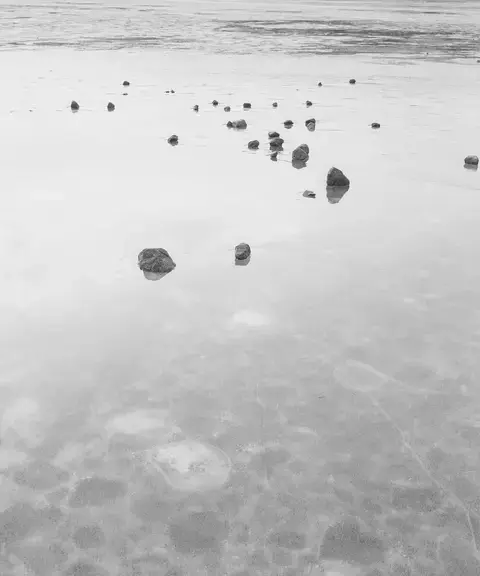 Alluding to Nature: Works from the Hafnarborg Collection
Strandgata 34, 220 Hafnarfjörður
Hafnarborg – menningar- og listamiðstöð Hafnarfjarðar
05, November 2022 - 30, December 2022 (see calendar for other dates)
Open from 12.00pm - 5.00pm
Website https://hafnarborg.is
General Admission See on official website
Rocks in a frozen lake, a mountain that is mirrored in the calm sea, snow falling down on the earth from the sky, moss, a tuft of grass and volcanic craters, clear water in a deep crevasse, light and shadow, the shore and the tides.
***
For the past few years, the Hafnarborg programme has featured a variety of exhibitions that concern nature in one way or the other, not least in light of climate change and mankind's place in a world that is constantly changing. These last years have also been defined by other changes, as museums have had to adapt to shifting landscapes, often postponing or moving things around. For this reason, nearly two years have now passed since we last had the chance to exhibit works from the Hafnarborg Collection, sharing the museum's artefacts with guests and fulfilling this important role of all museums.
The Hafnarborg Collection contains numerous artworks that allude to nature and this exhibition highlights a selection of these works, focusing on textural works, organic shapes and curved forms. The works on display are both two- and three-dimensional – reliefs and photographs, paintings, textiles and ceramics – but the starting point of the exhibition was indeed "sculptures from the collection". What we may consider a sculpture is, however, up for debate, as artists and art theorists alike have stretched and expanded the concept in the last decades, so one might even say that two-dimensional works on paper or canvas possess some sculptural characteristics – if one looks at them in a certain light.
The works span the time range from the nineties to now (excepting one work from the sixties), all showing in their own way how different artists approach and portray nature – but mankind's earliest artistic endeavours have often been said to reflect a desire to imitate nature. Looking closer, one may even sense a tension in the works, as interpretations of nature move further away from or back towards objective reality, in a constant swirl of new ideas. Thus, the works perhaps become symbolic of man's inner nature, as much as the world around us.
The exhibition features works by Auður Vésteinsdóttir, Daniel Reuter, Edda Jónsdóttir, Eiríkur Smith, Hallgerður Hallgrímsdóttir, Guðjón Ketilsson, Guðmundur Thoroddsen, Guðný Magnúsdóttir, Gurli Elbækgaard, Jóna Guðvarðardóttir, Jónína Guðnadóttir, Kogga, Margrét Sveinsdóttir, Nína Óskarsdóttir and Stefán Jónsson.
Curated by Hólmar Hólm.