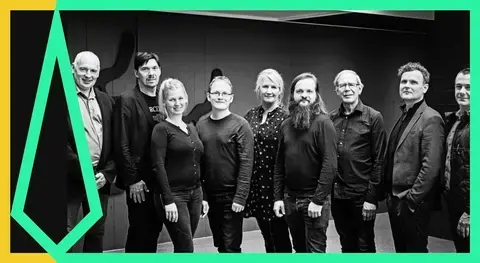 Aldubáran
Ingólfsstræti 2, 101 Reykjavík
Gamla Bíó
12, October 2022
Open from 10.00pm - 11.30pm
Website https://nordicmusicdays.org/aldubaran
General Admission See on official website
The Faroese music group Aldubáran performs works by Faroese and Norwegian composers at the concert in Gamla bíó during the Nordic Music Days.
Aldubáran is the leading chamber group in the Faroese music scene. With a varied and unusual line up of instruments, the group has offered a very diverse range of concerts since 1995. Aldubáran plays everything from Bach and Beethoven to working with Faroese composers and singers and performing brand new music in different musical styles. Here Aldubáran performs as a string quartet. This is a unique opportunity to follow what is happening now in the Faroese music scene.
Programme:
Kristian Blak (FO) - Snart vippe vi over (2018)
Eli Tausen á Lava (FO) - Growing Apart (2020)
Simona Eivinsdóttir (FO) - Tøgn-Òró-Ró
Cecilie Ore (NO) - Non nunquam (1999)
Tróndur Bogason (FO) - Disco
Kári Bæk (FO) - Valsur einkinsins riddara
Performers:
Aldubáran (FO):
Sámal Petersen, violin
Jón Festirstein, violin
Angelika Hansen, viola
Andreas Restorff, cello
We are excited to welcome you to Nordic Music Days 2022 in Iceland. The festival takes place in the capital Reykjavík and the municipality of Kópavogur. Next to many concerts at various venues and in public spaces the rich festival program offers an exhibition of innovative instruments, a conference on global impact in the arts, concerts for school children and a workshop for young music journalists. Please join in and share our passion for international community building!
The Nordic Music Days have been organized since 1888 as one of the oldest festivals for contemporary classical music in the world. The festival is unique in the sense that it is organized by the composers themselves. This years' festival is organized by the Icelandic Composers' Society.